Welcome to our Ring Doorbell setup blog, your go-to guide for boosting your home's security and convenience. Whether you're a tech wizard or new to smart gadgets, this Ring Doorbell setup guide is here to help. Imagine a doorbell that doesn't just ring but also lets you see and talk to visitors from anywhere. With our easy-to-follow steps and handy tips, setting up a Ring Doorbell is a piece of cake. We're here to make the process super clear. From unboxing to connecting, we've got you covered every step of the way. No more feeling puzzled – we've made it simple. By diving into the world of Ring Doorbell setup, you'll discover how tech can make your life easier. You'll become a pro at checking who's at the door, even when you're not home, so let's explore together as we guide you through setting up your Ring Doorbell. Soon, you'll be enjoying the perks of a modern doorbell that keeps you connected and secure.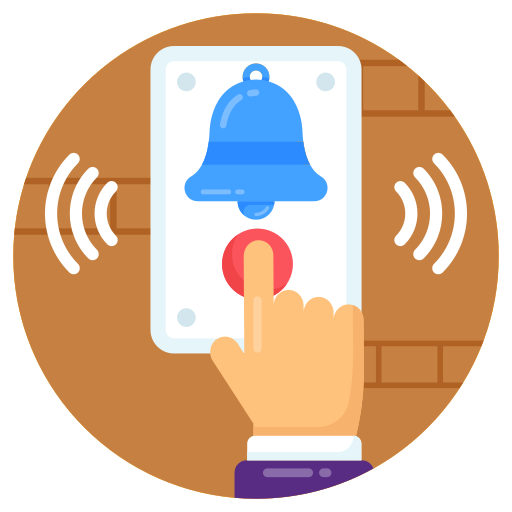 How To Install a Ring Doorbell:
Setting up a Ring Doorbell is a relatively straightforward process that involves installing the device, connecting it to your Wi-Fi network, and configuring the settings through the Ring app on your smartphone or tablet. Here's a step-by-step guide on how to install a Ring Doorbell:
Check Compatibility: To set up a Ring Doorbell, make sure your current doorbell wiring and Wi-Fi network meet the requirements for installing a Ring Doorbell. Not all doorbell setups may be compatible
Download the Ring App: Install the Ring app on your smartphone or tablet. It's available on both iOS and Android platforms.
Choose Location: To set up a Ring Doorbell, select a suitable location for your Doorbell. It should provide a clear view of your doorstep and be within the range of your Wi-Fi network. Make sure it's at a height and angle that captures visitors' faces.
Power Off: For Ring video doorbell installation, turn off power to your existing doorbell at the circuit breaker or switch off the corresponding fuse.
Remove Old Doorbell: If you have an existing doorbell, carefully remove it from its mount, disconnect the wires, and remove any mounting plates.
Attach Mounting Bracket: For Ring video doorbell installation, attach the provided mounting bracket to the wall or door frame using the screws and anchors that came with the Ring Doorbell. Ensure the bracket is level and secure.
Connect Wires: If your Ring Doorbell model requires wiring, connect the existing doorbell wires to the corresponding terminals on the Ring Doorbell. Follow the color-coded instructions in the manual.
Attach Ring Doorbell: To set up a Ring Doorbell, align the Doorbell with the mounting bracket and gently slide it down until it clicks into place. Tighten any security screws if provided.
Power On: Turn the power back on at the circuit breaker or fuse to supply power to your Ring Doorbell.
Ring Doorbell App Setup:
To setup the Ring Doorbell app, you can follow the steps mentioned below.
Open Ring App: Install and Launch the Ring app on your smartphone or tablet.
Create Account/Login: If you're new to Ring, create an account using your email address. If you already have an account, log in.
Add Device: Tap on the "+" icon within the app to add a new device.
Select Device: Choose "Video Doorbells" from the list of available devices.
Scan QR Code: The app will walk you through scanning the QR code on the back of your Ring Doorbell. Follow the directions on the screen.
Connect to Wi-Fi: Select your Wi-Fi network from the list of available networks & enter your password when prompted. Ensure your device is in range of your Wi-Fi router.
Customize Ring Doorbell Settings: Configure Ring Doorbell settings such as motion detection sensitivity, notification preferences, and more according to your preferences.
Finish Setup: Once the Ring Doorbell wireless installation is complete, your Doorbell should be connected to your app and ready to use.
Testing and Final Steps: Test the doorbell by pressing the button or asking someone to ring it. You should receive a notification on your smartphone or tablet. Use the app to access the live video feed from your Ring Doorbell at any time. Fine-tune Ring Doorbell settings based on your experience. You can adjust motion zones, notifications, and more.
Now your Ring Doorbell wireless installation is complete and is ready to help you monitor your doorstep and receive notifications for visitors! Remember that the setup process may vary slightly depending on the specific model of the Ring Doorbell you're using.
How To Configure Ring Doorbell Settings:
Configuring Ring Doorbell settings is essential to customize its functionality according to your preferences. With the Ring app on your smartphone or tablet, you can customize numerous settings to improve the functioning of your doorbell and personalize it to your specific needs. Here's a guide on how to configure Ring Doorbell settings:
Open the Ring App: To configure Ring Doorbell settings, 006Caunch the Ring app on your device and log in to your Ring account if you haven't already done so
Select Your Doorbell: Once you're logged in, the app will display a list of your Ring devices. Tap on your Ring Doorbell's name to access its settings
Customize Settings: Within the settings menu, you'll find several options to customize your Ring Doorbell's behavior. Here are some key settings you can configure.
Motion Settings: Fine-tune how your Ring Doorbell detects and notifies you of motion. You can adjust the following settings:
Motion Zones: Define specific areas in the camera's field of view where you want to detect motion. This helps prevent false alerts from unrelated movements.
Motion Sensitivity: Adjust the sensitivity of the motion sensor to filter out minor movements or capture all motion.
Motion Frequency: Decide how often your Ring Doorbell sends motion alerts. Choose between frequent alerts or more selective notifications.
Notification Settings: Enable or disable push notifications on your device whenever motion is detected or someone rings the doorbell. Configure whether you want the Ring app to display in-app alerts for motion or doorbell rings. If you have a Ring Chime or Ring Chime Pro, adjust its notification settings.
Video Settings: Choose between different video quality settings based on your Wi-Fi network's capabilities and storage preferences. Adjust settings related to the live view experience, such as video quality and audio settings.
Shared Users: Add other users to your Ring account and configure their access levels and notification preferences. This helps allow family members or trusted individuals to access and manage the doorbell.
Linked Devices: Connect your Ring Doorbell to other smart devices & services, such as Amazon Alexa or smart lighting, to create integrated home security solutions
Device Health: Check the health status of your Ring Doorbell, including its battery level (if applicable) and Wi-Fi signal strength.
Ring Protect Plans: Review and manage your subscription to Ring Protect Plans, which offer cloud storage for recorded videos, extended warranties, and more.
Save and Apply Changes: After making the desired adjustments to your Ring Doorbell settings, ensure to save your changes by tapping the "Save" or "Apply" button within the app.
Test and Fine-Tune: Test the settings you've configured by having someone ring your doorbell or walk within the motion detection zones. If necessary, fine-tune the settings to attain the desired results.
Regular Maintenance: Periodically review and update your Ring Doorbell settings based on your evolving needs and any changes in your environment.
Configuring your Ring Doorbell settings allows you to create a personalized and effective home security solution tailored to your lifestyle and preferences. Experiment with different settings to find the optimal balance between security and convenience.
How To Fix Ring Doorbell Setup Issues:
Setting up a Ring Doorbell can be an efficient way to enhance your home security and keep track of your surroundings. However, like any technological device, you might encounter some Ring Doorbell installation issues. Here are some common Ring Doorbell setup issues and potential solutions to consider:
Wi-Fi Connectivity Problems: One of the most frequent issues is connecting your Ring Doorbell to your Wi-Fi network. This can result in unreliable performance or no functionality at all. To address this Ring Doorbell setup issue, ensure that the doorbell is within a reasonable range of your Wi-Fi router. Double-check that you're entering the correct Wi-Fi credentials during setup. If possible, consider using a Wi-Fi range extender to improve signal strength near the doorbell's location.
Weak Signal Strength: A weak Wi-Fi signal can lead to slow video streaming or intermittent connection loss. Here's what you can do to troubleshoot Ring Doorbell installation issues, relocate your Wi-Fi router or use signal boosters to improve coverage around the doorbell's area. Avoid setting up the doorbell near large metal objects or walls that can block the Wi-Fi signal.
Insufficient Power: Ring Doorbells require a stable power source to function correctly. If your device frequently loses power, consider these steps, ensure that the doorbell is receiving adequate power from the existing wiring or the provided battery. If you're using the battery, make sure it's fully charged and replace it if it's old or not holding a charge.
App Pairing Issues: Syncing the Ring Doorbell with the Ring app is crucial for remote access and control. If you're facing problems with app pairing, ensure you're using the correct app version and that your smartphone's operating system is up-to-date. Follow the Ring Doorbell setup instructions provided in the app carefully, including scanning QR codes or entering serial numbers.
Motion Detection and False Alerts: Sometimes, the motion detection feature can be too sensitive, resulting in frequent false alerts. To fine-tune motion detection, Adjust the motion sensitivity settings in the app to reduce false positives. Use motion zones to focus on specific areas where you want the doorbell to detect motion.
Video Quality Issues: If you experience poor video quality or pixelation, try these steps, For Ring Doorbell setup, check if the camera lens is clean and not obstructed by dirt, debris, or condensation. Ensure that your Wi-Fi network has sufficient bandwidth for streaming high-quality video.
Firmware Updates: Outdated firmware can cause Ring Doorbell setup issues and decrease performance. Check the firmware updates in the Ring app regularly and install them as needed.
Resetting the Doorbell: If you're encountering persistent Ring Doorbell setup issues, a last resort might be to reset the doorbell to its factory settings. However, keep in mind that this will erase all your custom settings and configurations.
Setting up a Ring Doorbell can greatly enhance your home security, but it's not uncommon to encounter setup issues along the way. From Wi-Fi connectivity problems to app pairing issues, these challenges can sometimes be frustrating. However, with a bit of troubleshooting and patience, many of these issues can be resolved effectively.
Conclusion:
In conclusion, while setting up a Ring Doorbell can provide invaluable benefits for home security and convenience, it's not uncommon to encounter certain challenges during the Ring Doorbell installation process. From Wi-Fi connectivity and power issues to app pairing and motion detection adjustments, troubleshooting these problems requires patience and careful attention. By following the manufacturer's instructions diligently, optimizing your Wi-Fi signal, and utilizing the features available in the Ring app, you can overcome these Ring Doorbell installation issues and make the most out of your Ring Doorbell. To know more about Ring Doorbell and resolve its related issues, please visit our Ring Doorbell Support page.